An Exhibition of plates and platters by
Alexandra Copeland
from
1983-2003
"Inspired by early English and European majolica ceramics I bought a small kiln and potters wheel in 1983 and started painting with glazes. Small dinner plates, then larger platters, and then large slab platters. Japanese influences crept in, Kenzan the Japanese master potter, and the haiku masters, were inspirations. In 1989 I flew to Japan with a plate under my arm intending to find a gallery to represent me there - and against the odds I did. I had eight exhibitions in Japan - but by 1992 Japan was in recession and my agent ceased business. At that time I received a grant from the Australia Council to study majolica techniques in Italy. I found new horizons for my work in Italy and I put my current stock of majolica platters into storage - and then had to find more room to store the plates returned from Japan, sent for an exhibition that didn't eventuate due to the downturn, Many of the platters in this exhibition at Illowa St are from that period."
Obscure reference: Tom Waits - Big in Japan:
https://www.youtube.com/watch?v=FVdfDoXHdZc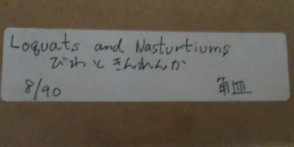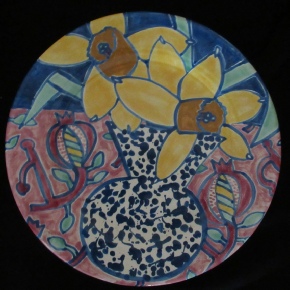 1. Grasshopper. NFS
2. Loquats and Nasturtiums. $600
3. Cicada with Lilies. $600
4. Daffodils with Turkish Embroidery. $450
5. Pinks. $600
6. Pansies with Fish Bowl. $450
7. Blue Swimmer Crab. $600
8. Pomegranate with Morning Glory.
$600
9. Ginger Jar with Morning Glory. $600
45. Heron. NFS
46. Frog. 40cm. $450
47. Rainbow Trout. 42cm. $600
48. Dragonfly. 50x32cm. $450
49. Ginger Jar with Lilies. 50x32cm. $450
50. Starlings. 42cm. $600